So you've assembled a great team.
Through timely investments and some tough work in HR, you've found, screened, and trained A-Players to work for you. You have the right people in the right seats on the bus and because of that, you are poised to leave your competition in the dust.
Mission accomplished, right?  Wrong.
Now comes the toughest part of a leader's job. And yet it may be the most important. How do you make sure that the talent you've worked so hard to get doesn't abandon you for one of your competitors? Losing employees and retraining replacements is a huge cost to an employer. So, what can you do ensure that your investment in these employees doesn't go to waste?
The short answer? Buy Patrick Lencioni's book, The Advantage. It changed our business for the better…forever.
The long version? Let me start with a couple of examples.
Creating Loyalty
A few years ago I visited with the owner of a large independent adjusting firm. He was lamenting the fact that adjusters just weren't very loyal. They'd work a little while for his company and then, inevitably, jump ship for another firm or competitor. And the worst part? This always seemed to happen right about the time the adjusters started becoming real assets! The owner felt like he had become a training ground for other firms. It seemed like a reasonable complaint to me, and one I'd heard before.
His adjusters didn't stick around because he didn't create an environment they wanted to stick around in!
So I spent some time thinking about it and eventually found, what I thought, was the reason his employees weren't loyal. His adjusters didn't stick around because he didn't create an environment they wanted to stick around in! The bigger issue though, was that he perceived himself to be powerless to do anything about it – apart from simply paying them more. This was startling to me because this friend was no dummy.
His company was well respected and by most accounts, quite successful.
I've seen it time and time again, in businesses of every size and shape. To instill loyalty, you must create an environment your employees want to be in, and stay in. Yet so many leaders and owners act like this is not a part of of their job. Like creating a good company culture is beyond their control. Too often, losing good employees is chalked up to the way of the world today. Or the fault of a generation. Or solely based on money. Or any other number of excuses which actually have very little to do with why a lot of people move around. This is not to say those things don't play a role for some people. But a good leader can combat so much by simply creating an environment employees WANT to be in.
Talent can only take you so far
Let me give you another example from a different industry. I'm a huge Kansas City Chiefs fan. As a kid, I spent summers at the chief's training camp in the middle of nowhere, getting mauled my man-eating mosquitoes, just for the chance to watch them practice. Now being a Chief's fan is 99% soul crushing pain and 1% pure joy. But I really think that 1% joy is actually closer to hope. The hope you have at the beginning of the season, the belief that this one will be different. (Cubs fans, Browns fans…you guys understand.) And nowhere did that hope come more into play than when we signed Scott Pioli as our General Manager back in 2009.
Hang with me here…I'm going somewhere.
Pioli was a slam dunk hire. He came from the mighty New England Patriots and knew how to build a world class organization. My hopes rose to new heights. There was no way we couldn't be better. Compete for a championship. Become the next dynasty! Ahhh yes, hope is a funny thing. You may know the outcome but if not, here's a snapshot: After a few bad years, capped off with a disgraceful 2-14 season, Pioli was run out of town. I was devastated. How could this happen?
Pioli never created an environment where good talent wanted to play.
The answer is quite simple. He never created an environment where good talent wanted to play. After getting heat for missing out on some key free agent signings, Pioli tried to exonerate himself by saying "Hey…I can't force them to play here. At the end of the day, they have to want to be here." On the surface, it's a pretty basic excuse. But think about it for a minute. He is essentially saying he has zero control over whether someone wants to be there. That's insane to me! It's unbelievable to think that the GM of a billion dollar business apparently doesn't think it's part of his job to create a culture where people want to be.
In this, he wasn't unlike my friend who owned the adjusting firm. The bottom line is that too many talented and otherwise competent leaders don't seem to realize that fostering an environment where people want to work is fundamentally their job! I went about learning this lesson the hard way myself. When I was building AdjusterPro, I figured I just had to find some good people and pay them well. That was all you needed to do to run a great company. But it didn't work out that way and after too many bumps and bruises, I had to reassess and create a place where people wanted to work…or we weren't going anywhere.
For more sports fun and to hear about a manager who did things the right way, check out this video:  Dan Kerr talks Kansas City Royals.
http://adjusterpro.wistia.com/medias/y7a9kj6kg0?embedType=async&videoWidth=640
Organizational Health
So how do you go about creating a place where people stay put? It really comes down to one thing – and it isn't some crazy silicon valley style office with free organic smoothies and nap pods. The most important part of creating a great work environment is organizational health. That sounds pretty vague so I will let Patrick Lencioni explain a bit more.
"At its core, organization health is about integrity, but not in the ethical or moral way that integrity is defined so often today. An organization has integrity – is healthy – when it is whole, consistent, and complete, that is, when its management, operations, strategy, and culture fit together and make sense."
I realize that still sounds pretty broad so let me expand on what I've learned about organizational health and why it is absolutely vital to retaining great employees.
First and foremost, organizational health is not organizational intelligence. This is a critical distinction. Organizational intelligence is about being smart: making good strategic decisions, anticipating needs, using the right technology, and managing money well. I suspect when most of us think about a great business, we think in terms of business or organizational intelligence. Having a reasonable amount of business intelligence is important but, as Lencioni puts it, it's more of a "permission to play" trait. You need intelligence to even be in the game. But we aren't talking about being IN the game, we are talking about winning the game.
So if competing requires intelligence, then winning requires health.
So if competing requires intelligence, then winning requires health. And health means having a culture where people thrive. It is a culture where there is crystal clarity about what winning looks like and how every member of the team contributes to victory. It is an environment where everyone from the rank and file to the CEO trust one another deeply enough to be transparent and admit mistakes without fear of retribution. There is no place for back-biting, politics, or middle school gossip. When things go wrong, autopsies are conducted without blame.
Does it sound like a pipe dream? It's not. When you have organizational health, employees feel empowered and energized and challenged and proud. They trust one another and hold each other accountable because they care about the company. Success for each employee, each leader, each department means success for everyone.
If you are seriously interested in turning your company into the best version of itself, then I urge you to buy Patrick Lencioni's book The Advantage. No gimmicks or jargon or hand-holding mantra sessions, just wisdom about human nature and prudent steps for becoming a healthy organization. No other book, (and we read a lot), has had more of a positive impact on our business and it isn't even close.
Let me share with you the two directions from The Advantage that have helped me the most.
Build a great leadership team
It starts at the top. If you don't have a group of leaders who work together, trust each other, challenge each other, and have each others backs, your business is in trouble. Poor leadership is one of the primary reasons employees leave. In fact, if you google "why employees leave a job", you'll find that bad bosses, poor management, or some other leadership based issue is towards the top of nearly every list or study.
At its heart, good leadership is about being the ultimate team player.
Good leadership isn't about being liked, or being feared. At its heart, good leadership is about being the ultimate team player. Think about your own experiences with leadership. People you loved working for vs those you didn't. The impact of bad, or good, leadership cannot be underestimated when we talk about retaining good employees. Lencioni goes into a lot more detail on what truly makes a great leader in the book and it was one of the most eye opening parts of the reading for me.
My last note on leadership: we briefly touched on The Peter Principle in our article The Right Stuff. It's worth mentioning again because all too often, companies promote employees based on past performance instead of skills related to the leadership position. Let's go back to football for a minute. Does every great player make a great coach? Would every good coach be a successful GM? Obviously not. Yet that Peter Principle chain of promotion is often how we create leaders in companies. And I believe it's why so many companies find themselves with ill-equipped leaders. To create a great leadership team, the members should be carefully chosen based on their fit for the position at hand, not their success at their current position.
Create Clarity
If you don't know who you are, or where you want to go, forward progress can be haphazard and largely accidental. How can you win if you haven't defined success? 
A great many companies work towards this goal but fall short. Lencioni does a wonderful job explaining how and why communicating can seem so difficult. It is vital to create solid goals for your company. It is just as vital to effectively and consistently communicate those goals, the steps required to get there, and how you intend to measure success. It is no accident that creating company wide clarity is also one of the best ways to foster loyalty. When each person knows they have a hand in the company's success, they will work harder to knock their individual goal out of the park. Lencioni offers some great information on how to create an organization playbook that can be shared company wide. It's done wonders for us in terms of clarity and communication. Truly.
Opportunities for Growth
A healthy company with great leadership and communication will foster an environment where employees want to stay. But this is an article on keeping your best talent and we can't ignore the  other primary factor that impacts employee retention: opportunity for growth.
Obviously, you can't hang on to great employees if you don't compensate them. However, I believe healthy companies offer many opportunities for growth and money is just one of them. Remember the google search regarding why employees leave a job? It tells us that while money does sometimes make the list, it is usually towards the bottom, below things like leadership, culture, and opportunity.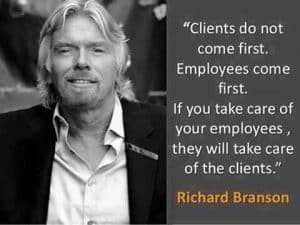 There is no perfect, one size fits all formula for cultivating growth and opportunities for your employees. The most important point I want to make is simply to remember that it isn't just about the dollar signs, or lack thereof. Employers need to work hard to create an environment where talented employees are recognized, compensated, rewarded, challenged, promoted, or any combination of the above. Whether in our business or personal life, when we feel valued, we perform better.
At the end of the day, there is no perfect plan to help companies retain great employees. But I hope the experiences I've shared will help you realize two things.
Creating an environment people WANT to work in will help retain employees.
Employers, leaders, owners CAN and SHOULD work to create that environment.
None of this is easy or simple. But in an era of low employee retention and low employee satisfaction, we should strive to do better. I believe we can.