There are a lot of great reasons to become an insurance claims adjuster. After all, insurance is big business in today's world. We insure everything. From homes and cars to data and yes, even body parts…if there is something on the line to lose, chances are there is insurance for it. 
So what does this mean for you, the potential claims adjuster? Insurance policies result in insurance claims and the need for a claims adjuster. And there are a lot of benefits to a career in this field. Keep reading to discover our Top 10!
#1: Money
If you're considering a career as an insurance adjuster, you're probably curious about earning potential. People are often surprised when they find out how much money independent insurance adjusters take home. That's because, on the surface, adjusters enjoy a seemingly humble job: we dress business casual, often drive pickup trucks, and frequently can be found outside or climbing on roofs. The truth is, insurance adjusters can make six figures with the right tools and tenacity, even if they're just starting out.  
To give you an idea of the earning potential with an insurance adjuster salary, look at major hail storms across the United States each year. A recent poll showed claims adjusters are paid between $300 and $350 per hail claim, which shakes out to between $900 and $1,200 for a full day of work. Or look at hurricane claims: at approximately $400 per claim, working six days a week, adjusters earn over $7,000 per week. And that's on the very low end of hurricane claims. Depending on the fee schedule and loss, some claims can pay upwards of $1,500 each. Put simply, even rookie insurance adjusters can make six figures in a matter of months.
As you grow in your career, more experience means more demand for your services and better fee schedules. 
#2: Insurance Adjusting is a Recession-Proof Industry
In many industries, you can quickly and unexpectedly be out of work when an economic recession hits. Whether it's the housing bubble popping or the Covid-19 shutdown…circumstances far beyond your control can change things in the blink of an eye.
That's not the case when it comes to a career in insurance adjusting. Insurance is a necessity in today's society. Individuals rely on it, businesses rely on it, and banks and lending institutions absolutely require it.  
Losses occur regardless of economic conditions, and the country needs insurance adjusters to adjust these losses every month of the year. Hurricanes can hit at the same time as a recession. In fact, we've had a record number of billion-dollar disasters during Covid. Kitchen fires are unconcerned about economic shifts. Auto accidents occur as sure as the sun rises. All of that means insurance is here to stay, and so are the adjusting jobs that come along with it.  
#3: Insurance Adjusting Has Few Barriers to Entry 
Today, the average medical school debt is $190,694. Lawyers, on average, won't make six figures until the fifth year of practice. We've discussed how insurance adjusters can make six figures in their first year. Now consider that adjusters can earn this without the years of schooling and burdensome expenses.
For many people, years of education and crippling debt are simply not good options. And that's exactly what makes becoming an insurance adjuster so appealing: it's a lucrative career with few barriers to entry. You don't need a college degree or years of expensive schooling. Most states simply require you to be licensed and meet a few conditions: be over the age of 18, hold a valid driver's license, and pass a background check.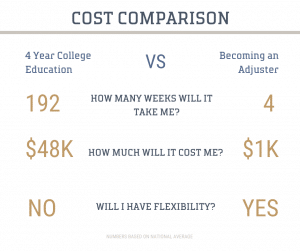 We know the adjusting business, and our job is to prepare you for a successful career as an insurance adjuster. Give us a few weeks and we'll help get you licensed and trained in the essentials, like Xactimate (the most popular software in the business). Insurance adjusting companies are always looking for diverse skill sets that come with varied backgrounds, and there's no better time to break in than now.
Free Live Q&A Webinar
Interested in learning more about how to get your license and find work as a claims adjuster? Join one of our free webinars. We'll cover everything you need to know and answer any questions you have.
#4: Insurance Adjusters Help Others
Most of us want to make a difference in the world and given the opportunity, would choose to help others. It's in our nature. Serving others is often cited as one of the most important factors when it comes to finding work enjoyable and rewarding.
Insurance adjusters are in the business of helping people get back on their feet after they've suffered a loss. And we are paid well to do it. Whether it's a catastrophic fire resulting in damage or theft that has led to a loss, adjusters are often one of the first to assist. We work with victims to inspect losses, assess damage, and help people get back on track.
#5: Insurance Adjusting is Interesting and Challenging
When catastrophe strikes, insurance adjusters are among the first people to respond. We often show up before the roads are cleared or the gas stations re-open, staying wherever we can find an open bed for the night.
Once you have some experience under your belt, you can choose from a wide variety of interesting paths in the world of claims adjusting. And the options go far beyond catastrophe claims.

There's rewarding working for workers' compensation adjusters who might stake-out a claimant to determine whether a claim is fraudulent. Liability adjusters investigate accident scenes, interview witnesses, and perform exhaustive investigations for important trials. The work is not only important, it offers a plethora of opportunities for specializations. Whether it's aviation, marine, heavy machinery, data security, or accident investigation, a career as an insurance adjuster can take you places. (One wonders what qualifications you'd need to handle the insurance claim on Heidi Klum's or Cristiano Ronaldo's legs.)

Another fascinating line of work is for adjusters who specialize in appraisal, arbitration, and mediation. These adjusters often play a key role in dispute resolutions that involve many individuals and large sums of money. If you talk to seasoned insurance adjusters, you'll discover the more experienced and specialized we become, the more interesting the work gets.
#6: Insurance Adjusting Offers Career Independence
Maybe you feel stuck in your current work situation. Or perhaps you've grown weary of the cubicle farm. Most people hope their work is fulfilling but even more than that, people crave independence. Veteran adjusters will tell you if you play your cards right, that is exactly what a career in claims adjusting offers.
The lifestyle of a career claims adjuster allows for a freedom and independence few careers can match. We dress respectably but casually. We can work hard for a short period of time and take it easy for the rest of the year if we choose. We can even work with our spouses. Many insurance adjusters are entrepreneurial and can develop claims companies, hire adjusters, and grow a business in our stable, recession-proof industry.
Or perhaps you're a homebody. Many of us to stay right at home handling daily claims in our hometown. Perhaps we do our paperwork on Mondays and handle inspections on Fridays. Heck – maybe we hire someone to do our paperwork and focus 100% on inspection, or dispute resolution, or consulting.
We're confident you'll discover work as an insurance adjuster is one of the most rewarding careers for those who want independence and great pay.
#7: Claims Adjusting Offers Career Options

When it comes to your career path in insurance adjusting, you have options. Many people enter the insurance adjusting industry through personal experience with a claim, such as after a hurricane. But catastrophe claims is just the tip of the iceberg in insurance adjusting. There are many, many more lines of work.
So what does that mean for you? It means where there's a need for insurance, there's a need for insurance adjusters. And the career path possibilities are nearly endless for prospective insurance adjusters. Often times, AdjusterPro students find a path in adjusting that matches their background experience, a special skill set, or passion they have. Love planes? Aviation claims would be a perfect fit. Did you grow up on a farm? There is a big need for more crop and agricultural claims adjusters in today's volatile climate.
Staff adjusting and independent claims adjusting both offer great opportunities. Staff adjusters work as employees directly for the insurance company. Staff positions can include paid holidays, full benefits, a company car, laptop, free training, and more. Opportunities for promotion abound for staff adjusters, and many have the chance to work with a wide range of claims, gaining valuable experience.

On the other side of the fence, there are independent claims adjusters. Independent insurance adjusters work primarily for claims adjusting companies such as bureaus or third-party administrators (TPAs). Careers for independent adjusters also vary widely. Some work locally, some travel, some are paid by the hour, some by the day, others by the claim. The work is flexible and enjoyable, and one commonly noted aspect of this path is that the pay is great. In fact, independent adjusters often make high six-figure incomes, while often working only part of the year.
#8: Insurance Claims Adjusters Work in Different Environments

Imagine a job where you can come and go as you please. Imagine the freedom to head out into the field and get some fresh air when you get restless in the office. Or maybe better yet, work from home.
When it comes to working as an insurance adjuster, you can choose to head out onto the road or stay local. You can choose to work solo, or hand-in-hand with people you enjoy. You can even set your own hours. That means you can bust it for four days and then rest, or work all seven days. Once you prove yourself in this industry, the freedom to work in different environments is one of the best things about this job.
#9: Independent Adjusters Travel
Forest fires, floods, hail storms, ice storms, earthquakes, or tornados are just a few of the major natural disasters that occur every year. For the insurance industry, these events mean the mass deployment of thousands of insurance adjusters all over the country.

Catastrophes occur from coast to coast. And while a career doing "daily claims" in your hometown is a rewarding path, CAT adjusters are often ready for the adventure of life on the road. These adjusters can ramble throughout the states and even travel internationally for work. Spring brings everything from hailstorms in Colorado to mudslides on the West Coast to tornados on the plains. Late summer and fall mean hurricanes in the Gulf and fires in California. Winter brings all sorts of weather-related challenges across the northern parts of the United States.

Regardless of the season, your career as an insurance adjuster will take you places. Deployments can last weeks or months, sometimes even longer. One of our alumni spent the first 8 months of the year in the Lake Tahoe area working California flood claims, then spent the last two in Florida helping with hurricane claims.

When it comes to transportation and lodging, most adjusters fly or drive to their deployment, then book a hotel, motel, or rent a condo or Airbnb, often with fellow adjusters. Some insurance adjusters travel in personal RVs and or with trailers. It's not uncommon for husband and wife insurance adjusting teams to work and travel the country together, or for retired couples to partner up and enjoy time together in a lucrative second career.

#10: Insurance Adjusting is Flexible

One of the most satisfying aspects of becoming an insurance adjuster is the freedom and flexibility our line of work offers. As an independent adjuster, you can pick and choose the claims and companies you work with. Independent adjusters can be on the roster for multiple Adjusting Firms and handle claims from multiple insurance carriers.
A career in insurance adjusting means developing a schedule that works for you. It means blocking out investigations at convenient times, or on specific days of the week. As an independent insurance adjuster, you can choose to handle your paperwork during the day or night. In other words, claims work can be scheduled around your life. And, provided claims are handled in a timely manner, you're free to be as flexible as you want with your schedule.
When you become an insurance claims adjuster, you'll discover that choices might be the best thing about the career.
---
Whether you're just starting your search for insurance adjuster training, need Xactimate training, or are ready to get your license, AdjusterPro is here to help.