Georgia residents, follow our step-by-step guide below to get your Georgia insurance claims adjuster license. We've also included information on how to renew your Georgia license and what reciprocity looks like for GA adjusters so you'll have everything you need to obtain and maintain your license.
Not a Georgia resident? Visit the Georgia Office of Insurance website to see details on getting your DHS or nonresident license.
Let's get started!
#1: Meet the Basic Requirements for the Georgia P&C Adjuster License
Before taking steps to get your resident P&C adjuster license, ensure you meet Georgia's basic requirements.
Applicant must be at least 18 years old.
Applicant must provide a valid mailing address and business address. P.O. Boxes are not allowed. The business address must be in the state of Georgia.
Georgia Department of Insurance requires every applicant to verify proof of lawful presence in the United States by submitting a signed, notarized copy of the Citizenship Affidavit Form and a copy of one secure and verifiable identification document via NIPR's Attachments Warehouse.
If you meet these basic requirements, it's time to take the required course and plan your strategy for acing your state exam.
#2: Take the Required Georgia Pre-Licensing Course
Georgia is one of a handful of states that require you to take a state-approved pre-licensing course before you can register and take the adjuster exam.
AdjusterPro's Georgia P&C Adjuster Pre-Licensing Course satisfies the state's 20-hour pre-licensing requirement and will thoroughly prepare you to pass the challenging state adjuster exam.
Our course has been rigorously prepared and is regularly updated. Our online classroom allows you to print reference materials, take practice tests, and even create your own quizzes to help with subjects you are struggling with.
At the end of the course, you'll be given a 100-question, multiple-choice final exam. You must correctly answer at least 70% of the questions to pass the pre-licensing course. However, we recommend consistently achieving 90% or higher on all the quizzes and practice exams before taking the state adjuster exam.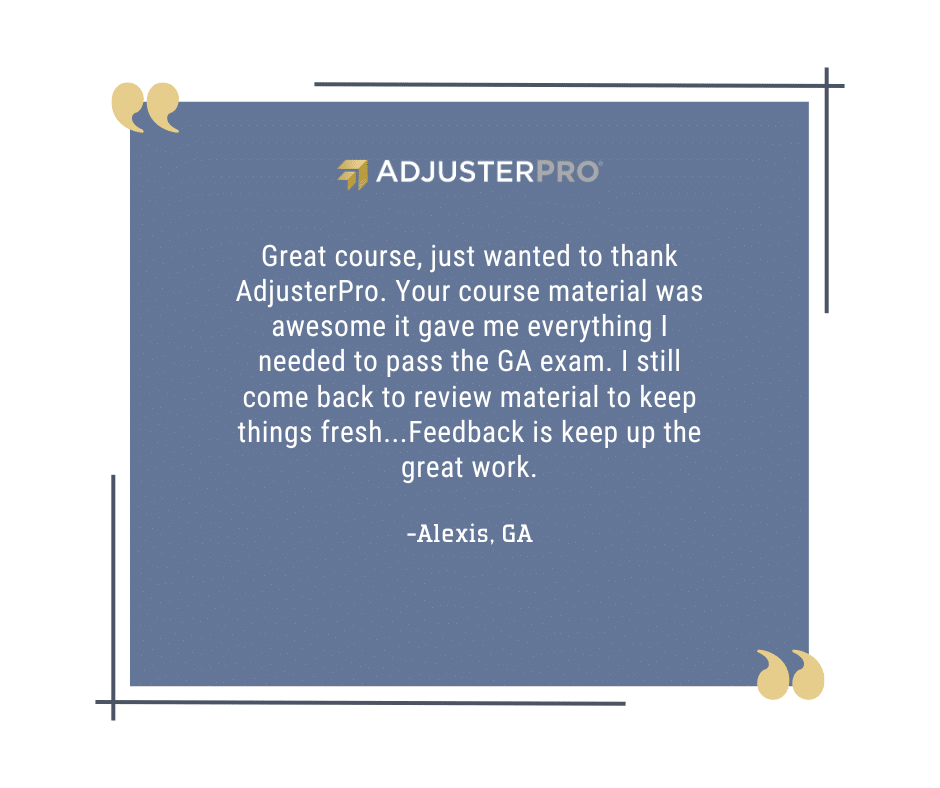 #3: Register for and Pass the Georgia Adjuster License State Exam
Register for and take your Georgia state exam through PearsonVue.
You must score at least 70% on the state exam to pass. The exam is 100 questions and you will be given 2 hours to finish. Candidates who score below 70% will need to pay for and take the exam again.
How to Become an Insurance Adjuster in 5 Steps
Getting your home state or designated home state license is a great start. See what else it takes to establish a successful career in the insurance claims industry.
#4: Submit an Application for Your Georgia Adjuster License
Submit your adjuster application through Sircon. Be sure to attach your certificate of completion to the application. If you took your course with AdjusterPro, your Certificate of Completion is available in the Certificates folder in your online classroom.
Georgia requires applicants to submit a fingerprint background check after submitting their license application. Get a fingerprint background check from Fieldprint.  When signing up for your appointment, select the OFFICE OF INSURANCE SAFETY FIRE COMMISSIONER box. You can find step-by-step instructions on the Georgia Department of Insurance website.
New license applicants are required to submit a notarized Citizenship Affidavit Form (GID-276-EN) attesting to either United States citizenship or lawful presence. A copy of the required form, along with instructions for completing the form, can be downloaded from the Georgia Insurance Department's website at https://oci.georgia.gov/citizenship-affidavit.
The completed and signed form and a copy of the front and back of one of the secure and verifiable identification documents listed on the form must be submitted with the online license application.
You can check to see if your license has been issued at Georgia Office of Insurance License Search page.
#5: Complete Georgia Continuing Education and License Renewal Requirements
Once you have your license, you'll need to complete some steps every few years to keep it active. Resident Georgia adjusters are required to complete 24 hours of continuing education (CE) every 2 years. Three of these hours must be Ethics. You cannot receive credit for any course more than once in a CE reporting period. Excess CE credits may be applied to the next compliance cycle as long as they do not exceed 50% of the requirement.
Continuing education requirements must be completed every 2 years on or before the last day of the licensee's birth month.
Renew your Georgia license through Sircon Georgia.
AdjusterPro offers over 40 hours of state-approved continuing education courses for Georgia adjusters. Courses can be purchased individually or as a discounted bundle.
View Continuing Education Courses for Georgia Insurance Adjusters.
Additional Information for Georgia Insurance Adjusters
Now that you know how to become an adjuster, let's take a detailed look at the fees and costs of getting and maintaining your license.
Georgia Adjuster Licensing Fees
AdjusterPro Georgia Pre-Licensing Course: $199
Exam Fee: $63
Licensing Application Fee: $120
Fingerprinting Fee: $51.50
License Renewal Fee: $100
Georgia Adjuster License Reciprocity
Reciprocity means an adjuster holding a home state license can apply for an adjuster license in another state without having to take that state's exam. If you want to learn more about reciprocity and why it's vital to your success, visit our Reciprocity: The Truth About Adjuster Licensing Agreements Between States blog article.
Fees for reciprocal licenses vary by state, but on average you can expect to pay between $40 and $60 per application, although a few states charge up to $120. To see what states will offer reciprocal licensing privileges to Georgia adjusters, visit our Georgia Adjuster Reciprocity Map. At the bottom of the page, we also offer a downloadable guide to help you prioritize which reciprocal licenses you should get first.
Georgia grants reciprocal licenses to adjusters who are licensed in their home state or adjusters who hold a Designated Home State (DHS) license, as long as the home or DHS state requires an examination.
Georgia Office of Insurance Contact Information
Website: Georgia Office of Insurance
Mailing Address:
Georgia Office of Insurance and Fire Safety Commission
2 Martin Luther King Jr. Drive
West Tower, Suite 702
Atlanta, GA 30334
Phone: 404-656-2070
Email: pvgainsurance@pearson.com
---
Obtaining your home state license is the first step to a career as an insurance adjuster. Once you become a licensed insurance claims adjuster in Georgia, you should apply for reciprocal licenses so you can work in more states, making you more attractive to potential employers.
No matter where you're at in your insurance adjusting career, we can help.