Most people know the Atlantic hurricane season runs from June 1st through November 30th. But those who live along the Gulf and Atlantic coast states and most insurance claims adjusters will tell you that there is a "season within the season" when it comes to hurricanes. And that's where things can really change quickly.
The first two months of the season are usually pretty calm. June averages only one named storm every other year, and July has averaged one named storm per year since 1950. We have seen a few early bird tropical storms pop up in May over the past few years, but these are rarely threats to life and land.
The real action, or the season within the season, happens from August to mid-October, with September 10th being the true peak of the season. This time frame is when the most powerful and destructive hurricanes occur. The African dust settles a bit while the waves increase, the currents and winds become more favorable, and the ocean temps are at their warmest during these months – all of which provide a much friendlier breeding ground for catastrophic storms.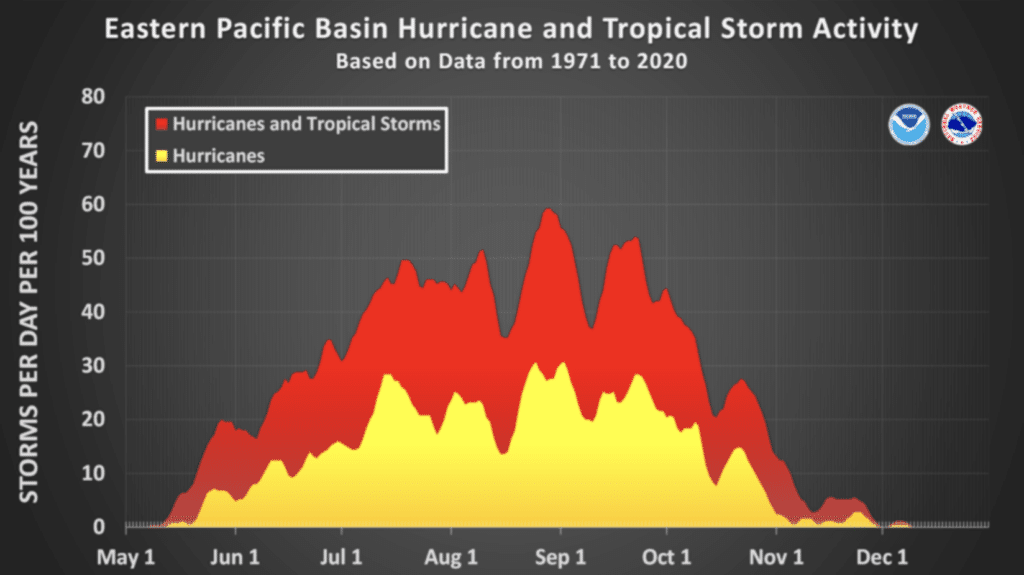 Over the past six years, these destructive hurricanes all struck the U.S. during the peak of the season:
2​022: Fiona (Puerto Rico, then Atlantic Canada); Ian (Florida)
2021: Ida (Louisiana); Nicholas (Texas)
2020: Isaias (North Carolina); Laura (Louisiana); Sally (Florida/Alabama border); Delta (Louisiana)
2019: Dorian (North Carolina)
2018: Florence (North Carolina); Michael (Florida)
2017: Harvey (Texas); Irma (Florida); Maria (Puerto Rico); Nate (Louisiana, Mississippi)
There are never any guarantees when it comes to predicting hurricanes. Before the season started, most meteorologists and scientists predicted an average to slightly below-average season due to a strong El Niño, which helps snuff out hurricane development.
But in July, top forecasters from Colorado State University upgraded their hurricane predictions for 2023 and are now calling for a "borderline hyperactive" season in the Atlantic basin, with as many as nine hurricanes expected to form. And all of those would likely come during our season within the season.
Our Atlantic waters are extremely warm right now, tracking well ahead of previous hyperactive hurricane seasons. And typically, warmer ocean temperatures in the Atlantic fuel more hurricanes. We still have El Niño in place to tamper development, but recent signs indicate that it may be weakening.
Scientists will often use data from previous, similar years to determine likely weather events. But for 2023, there aren't many other years with this combination of a strong or moderate El Niño and super hot ocean temps to use as a gauge. The most similar year is, unfortunately, 2005 with Hurricane Katrina.
The fluctuation of El Niño may still be the ultimate factor in determining how many, and how strong, hurricane development is in the 2023 season. The biggest concern is that IF and WHEN a storm is finally able to break through El Niño, it will have an almost unlimited supply of warm water energy. This is where we run into true catastrophes: CAT 4s and 5s that not only devastate coastal areas, but can retain their energy well into landlocked towns as cities as well.
Insurance claims adjusters know to stay ready for the hurricane season within the season. While things may have started off slow, there is no guarantee the Atlantic will stay quiet. If you're interested in being a claims adjuster and working catastrophe deployments, it's not too late. Check out your state licensing courses or give us a call. We're here to help, every step of the way.