For a new adjuster, what license to obtain can be confusing.  This is problematic because it is the most important first step.  We've seen folks miss employment opportunities due to mistakes in this area.
Thankfully, insurance claims adjuster licensing is a fairly straightforward process.  For starters, some states require a license in order to legally adjust claims, and others do not. You can learn which states require adjusters on our interactive reciprocity map.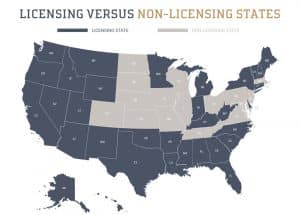 If you live in a state that does require adjusters to be licensed, this is the bottom line; get your home state license.  Your home state license is going to be the strongest in terms of reciprocal privileges as well as the most appropriate for legal viability to handle claims. If you live in a licensing state, this is the bottom line.  Forget well-meaning but incorrect advice such as "just get your TX license; it's good anywhere".  That is no longer true. Get your home state license, and then think about additional licenses (more on that below).
If you live in a state that does not require an insurance adjuster to have a license, it starts to get tricky. In those states, you can indeed legally adjust claims without a license. However, two issues arise; first, many employers will only deploy licensed adjusters. Second, many adjusters will ultimately want out-of-state licenses that will enable them to work throughout the entire country. For this reason, it is almost essential in today's claims industry for independent claims adjusters to hold some adjuster license, and often multiple licenses.  The big question then becomes exactly what license or licenses to obtain?  There are a number of issues, including reciprocity with other states and legal abilities to handle claims.
Behind the scenes, the powers that be are indeed pushing for uniformity in licensure throughout the country.
Although a single "national" license is not likely in the near future, measures are being taken to tame the adjuster license issue.
This is where DHS (Designated Home State) Licenses come into play. A DHS License offers a simple solution for a nonlicensing state resident. A DHS license allows the use of a licensing state to stand in as a surrogate for the adjuster to claim the equivalent of a home state or residential license.  Simply put, you are able to hold a DHS license in a state other than your own, and utilize it with the same reciprocal and claims handling privileges afforded to residents of that state.
There are many states that issue DHS licenses, the most popular being Florida and Texas. Either state is a fine choice and will basically yield the same results for strength and utility of license. But there are some differences in application fees and processing time that are worth noting. For these reasons, we recommend adjusters living in a nonlicensing state get the Florida DHS License. You can read more about the advantages and disadvantages of each states' license in our Florida New 70-20 DHS License blog article.
After you get your home state license or DHS license, then it is time to add other essential licenses to your resume, often through reciprocity. What additional licenses should you hold? This depends on what type of claims you want to work and what employer(s) you want to work for.  Our suggestion is to get to know your prospective employers; they will be more than happy to give you a list of state licenses that are important to them, based on the insurance companies they serve.
The claims industry is constantly in a state of flux, so it can be tricky to keep up with what to do, how to do it, or the best route.  Licensing, on the other hand, is a constant, a solid foundation where every adjuster starts.  Bottom line, get your home state license, or if not applicable, a DHS license, and you will have taken a huge first step towards your adjusting career.